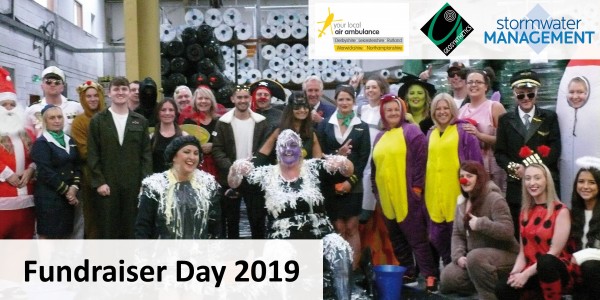 Stormwater Management Ltd and Geosynthetics Ltd raise a fantastic £4310 for our Local Air Ambulance!
Posted on 8/Nov/2019
For the last decade we have been selecting different charities that are close to the hearts of our team members and raising money for them through our Annual Fundraiser. Some of the previous charities we have supported include; Menphys Children's Charity, Georgie's Gift, Adapt, Lawrence House and Doorway.
This year the Local air Ambulance was selected by the team because of the excellent work that they provide. The local air ambulance receives no government funding and operates solely on the generosity of donations from the general public. The Air Ambulance Service operates the national Children's Air Ambulance and the local air ambulance services for Warwickshire, Northamptonshire, Derbyshire, Leicestershire and Rutland. Their vision is clear. They want children to grow into adults, they want adults to live longer and they want bereavement through trauma to become rare. Each of the services works tirelessly to save lives and alleviate sickness, wherever and whenever possible.
On November 1st our annual fundraiser day returned and as always, the fun started as soon as we entered the office. With the theme being decided as 'Up Up and Away' the variety of different costumes was clear to see with the team coming in costumes such as; dragons, pilots, ladybirds and inflatable rockets to name just a few. Throughout the day the team took park in a number of games, quizzes and a mixture of 'Up Up and Away' themed challenges which incorporated the 'Space Jam', 'Invading Personal Space' and 'Mavericks Mission'.
Our afternoon then consisted of the incredibly competitive Hansam Quiz, which as always was a close battle with the phrases 'cheat' and 'fix' being thrown about. The day was then concluded with our famous raffle which was full with unbelievable prizes that were donated by local businesses.
With the help and support from a number of local businesses and suppliers, the team can announce that they raised a staggering £2,155 this year which Geosynthetics Ltd Chairman, Chris Foxton kindly doubled to £4,310.
We would like to once again thank local businesses and our suppliers for the donations and support for our fundraiser. This help is invaluable in making this day such a success. Please find the list of businesses hat donated to our fundraiser day below:
Crustys
Beautiful Addition Bowtique
Flower Shop
Benefit Make up
Rebecca Dawes
Steaming Billys
Daniel Barkes Fitness PT Sessions
All News