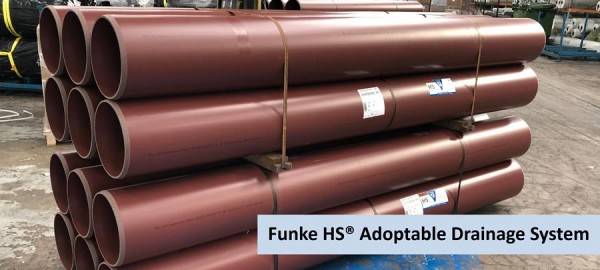 The revolutionary Funke HS®-Underground Drainage Pipe System
Posted on 13/Jul/2021
HS® Drainage & Sewer System
Stormwater Management are the stockist and distributor for the revolutionary Funke HS® Drainage & Sewer System.
The HS® range is a direct alternative to clay & concrete systems for adoptable drainage & sewer networks with acceptance/approval given ALL 11 water companies.
Due to the HS® range being available in a variety of diameters from 110mm to 800mm and a range of pipe lengths up to 5m there are now 5 major house-builders who have specified the system.  The diameters 200mm – 800mm are perfectly suitable for housing developments and the drainage of rainwater and wastewater.
The general concept gives cost savings on site (against weight, manpower, plant and installation time) and also provides fittings to SDR34 which, again, reduce costs. The ground-breaking product also offers major Health & Safety advantages for installers. With the ease of handling there will be a subsequent reduction in plant and machinery, make the HS® range a very safe and economical adoptable sewer system.
A complete system that leaves nothing to be desired
The low weight makes handling easier on the construction site, while high resistance to chemical influences and corrosion as well as optimal hydraulic properties ensure that sewer systems constructed from plastic pipes also meet the requirements of durability and low maintenance.
The colours blue and brown
This approach has played a major role in the success story of the HS®-Underground Drainage Pipe System.
Pipes and fittings can still be identified without any issues even many years after installation due to their colour coding in blue (rainwater) and brown (waste water).
Tried-and-tested – these pipes can withstand high loads
All HS®-Pipes and HS®-Fittings have increased walls and come with increased ring stiffness. They are therefore also suitable for laying under public traffic areas (from 0.5 m laying depth).
Advantages of the material
Due to its high hardness and robustness, PVC-U also has a significantly lower creep tendency than PP and PE. Unlike polyolefins, which can only be welded, PVC-U can be both welded and bonded. As a result of the higher modulus of elasticity, PVC-U pipes have much higher longitudinal bending stiffness than PP pipes, which minimises the risk of lower pipe bends, for example.
Why HS® Drainage & Sewer System
      SN12 / SN16 ring stiffness, against nominal SN6/SN8 of other plastic pipes
      Can be laid as shallow as 500mm (SN12) or 450mm (SN16) without concretcover.
      All pipes above 200mm are continuously marked on inside of pipe for camera   inspection and traceability
      100 year service life
      110mm-800mm OD, available in 0.5, 1.5, 3 & 5m length
      Fast and easy installation
      HA20/SLW60 Highways approval.
      Pipe and fittings are 2.5 bar pressure tested
      High pressure water jetting WRc and IRO tested
      No corrosion
      All fittings SDR34 rated
      Lowest creep factor both short and long term of plastic pipes
      Frost and Root resistant
      High chemical resistance
All News