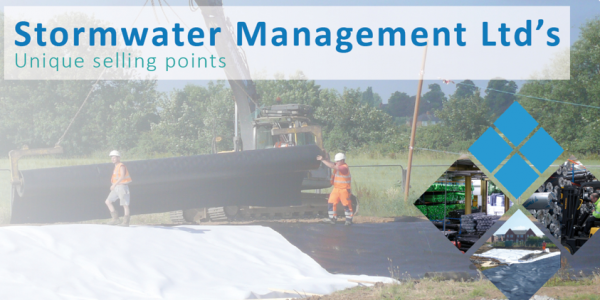 Stormwater Management Ltd's Unique Selling Points
Posted on 25/Feb/2020
Stormwater Management Limited are specialists in the supply and installation of surface water management & sustainable drainage systems. Whether the requirement is for landscaped, hybrid or more engineered drainage systems Stormwater Management Ltd are able to offer a solution.
Based in Hinckley, Leicestershire Stormwater Management Limited provide a wide range of drainage solutions for source control, volume control and stormwater treatment and HS Pipe.
What services can Stormwater Management Ltd offer you?
Stormwater Management are not just product suppliers but solution providers. We do more than just sell our customers a product, we work with them throughout their project to ensure we have provided the best solution possible. We do this by offering a range of services;
Stormwater Management on-site support
Our well-trained staff are always available to discuss the technical merits of our products and services and can assist with which solution would be most suited to a particular application.
Technical seminars and demonstrations
Stormwater Management offers a choice of seminars and demonstrations lasting around 45 minutes to 1 hour, each tailored to demonstrate a diverse range of technically appropriate and cost-effective solutions and services we can offer using our products.
If you would like to learn more about the advantages that Stormwater products and services could offer, then why not request a seminar? From a one to one to a large group, our team would be happy to come to you and demonstrate what we could offer as a resolution across a wide range of civil engineering problems.
Installation Service
As a company Stormwater Management Ltd supply and install a wide range of impermeable liner systems for all types of application. Our standard range includes HDPE & LLDPE liners, Bentotex GCL and Flowtex Protection Fleeces.
Stormwater Management understand that professional installation of impermeable liner systems is vital to the integrity of any water storage system, something that has been widely recognised in the National Standards in the Flood and Water Management Act. Taped jointed systems, and inferior membranes can fail causing potential leakage and pollution – under the new principle of 'polluter pays' this is an important consideration in the success of any drainage system.
Stormwater Management are gold members of ConstructionLine therefore we ensure that all installations are treated with due care and attention. All operators are T.W.I. certified and all installations meeting the exacting standards demanded by current guidance and testing requirements. Stormwater Management are CIS5 registered and this permits us to carry out all types of sub-contracts. All operators and supervisors are CSCS holders.
Why Stormwater Management Ltd stands out?
Other than supplying our customers with a range of high-quality products and excellent services, Stormwater Management Ltd have strong values behind the company.
Commitment to the environment
The industry requires a keen understanding of the adverse effects that can be caused by the application of our products. We actively seek out all opportunities to minimise our impact on the environment and guide customers into choosing the most environmentally sound solution to their application.
We have implemented an environmental management system which has received ISO:14001 accreditation, enforcing our commitment to provide environmentally conscious solutions to our customers applications.
Striving for excellence
At Stormwater our priority is to provide an exemplary customer experience right from the initial enquiry through to the comprehensive aftersales service.
Our quality processes are accredited to the ISO 9001 standard and have achieved ConstructionLine Gold Standard, meaning our customers can be assured that we have the capability to retain their requirements at the heart of everything we do.
For more information on solutions provided by Stormwater Management Limited please contact the sales office on 01455 502222 or email sales@storm-water.co.uk.
All News