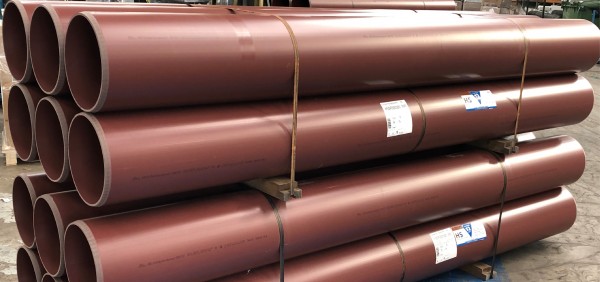 HS Pipe
The HS®-Drainage Pipe System provides the user with a complete system which has excellent technical properties and is available from DN/OD 110 to DN/OD 800. Not only do the pipes and fittings make this modern drainage pipe system what it is, but special additional components such as the VARIO coupler, the Demarcation and Control Chamber, a level invert lateral connection, laser & access opening and diverse bends and branches also contribute to the strong performance and diversity of use. The pipes are solid wall PVC-U pipes with an increased wall thickness in the colour brown. They are manufactured as plain-ended pipes with chamfered spigots in DN/OD 110 – 315 and as single socket pipes in sizes DN/OD 400 – 800. The pipes are available in lengths of 0.5 m, 1.5 m, 3 m and 5 m. The fittings with a secure FE®-Sealing Ring are able to withstand heavy loads and can be installed at depths of between 0.5 m and 6 m for traffic loads of max, HA 20. The measured ring stiffness amounts to ≥ 12 respectively 16 kN/m². All of the fittings (SDR 34) are manufactured so that they do not form any steps on the interior. The use of the double socketed fittings enables the drainage pipe system to be installed fast and flexibly.
Benefits:
Long service life
More than 80 years of experience with PVC-U material
No corrosion
100 % recyclable
High chemical resistance
The HS® system is now accepted/approved by all 11 Water Utility Companies within the mainland UK.
To download our HS Pipe brochure click here