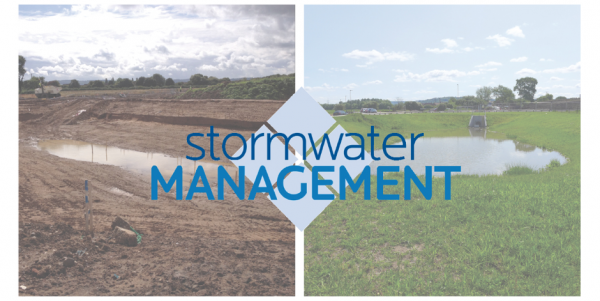 Why use Stormwater Management Ltd for your SuDs pond?
Posted on 17/Feb/2020
Why use Stormwater Management Ltd for your SuDs pond?
Stormwater Management offer a full range of lining materials including; LLDPE, HDPE and GCL geomembranes and technical support from design right through to installation and commissioning making us a go to supplier for your projects lining solution.
Our products have been tried and tested in numerous projects with different challenges to overcome varying from lining a moat surrounding an ancient monument to creating an aesthetically pleasing attenuation pond in a new housing development,
One of our favourite projects is when we supplied a pond lining solution for a SuDS Pond at Longford Lane.
Stormwater Management Ltd were contracted by CA Blackwell to supply and install a complete lining solution for a SuDS attenuation pond on a new housing development in Gloucester. Utilising our 1mm Aquablock® LLDPE liner and Flowtex protection fleece, Stormwater Management offered an earthworks support package to provide a complete turnkey solution and added customer assurance.
The end result was fantastic and can be viewed by reading the case study linked below…
http://www.storm-water.co.uk/wp-content/uploads/2014/10/Case-Study-Gloucester-Pond3.pdf
All News